Organizational Strategy and Analytics
Empowering Employers with Data-Driven Results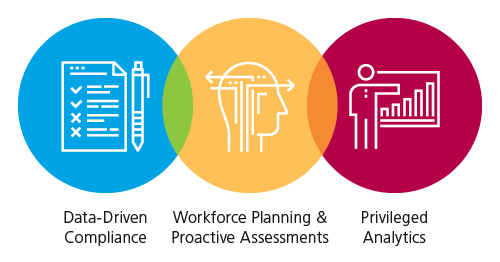 Building a workforce for the future requires data-driven insights to spot trends, identify and mitigate risks, and create programs that attract and retain the best. At the same time, increasingly aggressive legal and regulatory developments are making new demands on employer policies, compliance and reporting.
While some organizations are already seizing the strategic potential of data to achieve their workforce and compliance goals, others are just getting started with the foundational steps of gathering, processing and analyzing employee data for baseline insights.
No matter where your organization is on this continuum, you need a strategic partner who can offer sophisticated statistical analyses coupled with superior legal counsel. Whether your primary focus is protecting and defending your brand, remaining in compliance with federal and state regulations or implementing an "employer-of-choice" strategy, Seyfarth can meet you where you are and help you achieve your goals with focused, effective, data-driven solutions.
Introducing Seyfarth's Organizational Strategy and Analytics Team
Seyfarth's Organizational Strategy and Analytics team is an industry leading group of lawyers, economists, analysts and technologists who use powerful analytical approaches for people analytics, workforce strategy, compliance, and litigation. Our team brings a wealth of experience in designing and developing the data analyses, reporting, and metrics that employers need today, coupled with the protections provided by attorney-client privilege.
This powerful combination of legal acumen and data analytics capabilities allows us to create groundbreaking solutions that yield both legal and business impact.
Our Services
Pay Equity Analyses
Hiring/Screening/Testing and Applicant Tracking
Diversity and Inclusion Counseling
Workforce Restructuring and Reductions-in-Force
Employment Analytics
Big Data Predictive Analytics
OFCCP Compliance
Litigation Support, including eDiscovery
Wage-Hour/CDL: Systemic Assessments
The Seyfarth Advantage
Attorney-client privilege and protocols Working with OSA optimizes the confidentiality of sensitive analyses and reports through our use of established protocols that support the attorney-client privilege. We can also advise you on the best strategy for internal or external communications with an eye towards risk mitigation.
Industry-leading multidisciplinary approach Our team of lawyers, analysts, statisticians and labor economists work together to staff your project efficiently while producing optimal results. Our multidisciplinary approach provides a cohesive client experience, streamlined communications and deeper understanding of your workplace reporting and analyses needs.
50 State Pay Equity Survey
Seyfarth Shaw at Work (SSAW), in association with Seyfarth Shaw LLP, offers a comprehensive 50 state survey, updated quarterly, covering (1) citations to the current statute (2) citations to pending amendments/bills (3) protected status (4) comparison group (5) whether location can be considered (6) burden of proof (7) affirmative defenses (8) statute of limitations (9) damages (10) length of back pay (11) remediation and (12) comments or other notable differences from federal law. For additional information, please email payequity@seyfarth.com.

SeyfarthLean®
A different way of thinking about and delivering legal services.